our history:
In 1997, after being in church leadership at various churches for 18 years, Glenn began to observe many sincere believers "burning out" in ministry, because they were not taking the time to cultivate holy intimacy with Jesus as a major emphasis in their life.
Their focus was more on fulfilling the Great Commission (Mt. 28:19) than fulfilling the Great Commandment. (Mt. 22:36-37) In other words, loving God with all their heart was secondary to seeing people become disciples of Jesus. Though both are huge priorities, Jesus taught that we should pursue loving God above all other pursuits, including making disciples of all nations.
During this time, the Lord began to stir Glenn's heart to plant a church that would put the Great Commandment in first place. It was, and still is, Glenn's conviction that the second commandment (Mt. 22:39) is best fulfilled when the first commandment (Mt. 22:38) is in first place.
During this season, while an associate pastor and elder at a church in east Texas, Glenn and Suzanne prayed an outrageous prayer! They prayed, "Lord, if we're supposed to plant a church, would you speak to someone like Paul Cain or Larry Randolph". These were two men who had national reputations for being able to move in prophetic ministry. Paul lived in Kansas City, and Larry lived in California. Glenn and Suzanne felt they needed independent outside confirmation before venturing out to plant a church.
Surprisingly, within 10 days, Larry Randolph, whom Glenn had only met one time a year previous, called Glenn's pastor and said the Lord showed him that Glenn was supposed to plant a church!
So, in 1998, with the blessing of the east Texas church and its leaders, Glenn and his family were sent out to plant River In The Hills in Austin. After meeting in homes and temporary facilities in the Lakeway area, River In The Hills moved to their current location on highway 620 in 2003.
Behind our name:
River in the Hills Church was birthed during the days of a worldwide revival in the 1990's known as the "Renewal Movement." During the renewal, many worship songs were written that depicted the Spirit of God moving through specific regions or church congregations as a "river of God."
Daniel describes a river of fire coming from God's throne, Psalms describes a river of gladness, and Ezekiel describes a river of life. So, we wanted to give the church a name that describes various ways the Holy Spirit moves among God's people. Since we are located at the edge of the hill country of Texas, it seemed to be a good fit, both biblically and geographically!
vision + purpose:
We believe our vision and purpose fulfills what Jesus called the 'Greatest Commandment' - to love the Lord your God with all your heart, soul, mind and strength and to love your neighbor as yourself. They are two separate things, but they are eternally connected and we believe you can't do one without the other.​
​
There are many different ways we fulfill each mandate, for instance; we reach the unreached with local outreach and evangelism through prayer, sharing the gospel, healing the sick, ministering during our Sunday services, and more. We also reach the unreached in other countries through supporting missionaries and sending people on mission trips.
​
Other mandates we intend to fulfill as a church include fostering revival in Central Texas, making disciples, contending for breakthrough in different areas of healing and deliverance, being Jerusalem Watchmen, and cultivating a prayer and worship culture.
Through
being
presence
driven
By​ touching
the
untouched
Through
welcoming God's
manifest
presence
By reaching
the
unreached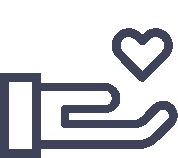 "Love the Lord your God with all your heart and with all your soul and with all your mind and with all your strength...and love your neighbor as yourself. There is no commandment greater than these."​