Join us In Person 12/6/20
We will be open this Sunday for an in-person church service. Face masks are optional, and individuals have the freedom and choice to socially distance if they desire, but it is not required. We ask that everyone honor each others personal convictions regarding these optional safety measures and extend grace for all people on all sides of the spectrum. If you prefer to watch from home, you can join us live via YouTube or Facebook at 10:25am CST Sunday morning.
Hey there! We're glad you stopped by. Here at River in the Hills Church, we seek to move God's heart and change the world. We're a Spirit-filled, intergenerational, Bible-believing church, that loves to worship Jesus. No matter the walk of life, any and everyone is welcome.
We can't wait to meet you!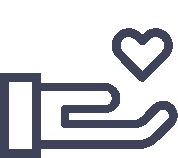 "Give generously and generous gifts will be given back to you, shaken down to make room for more. Abundant gifts will pour out upon you with such an overflowing measure that it will run over the top! Your measurement of generosity becomes the measurement of your return."